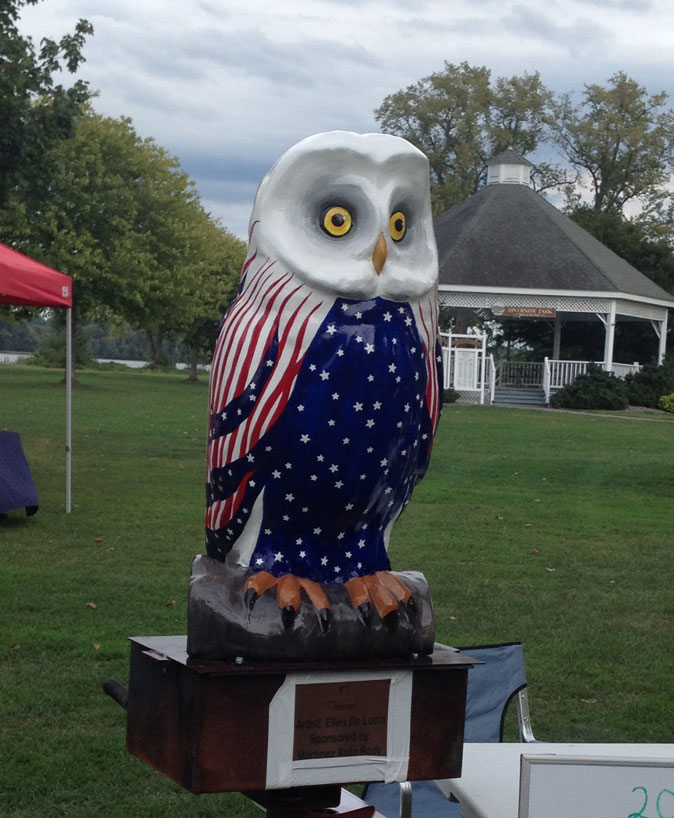 Posted: Sunday, December 18, 2016 12:30 am
By Melanie Lekocevic Columbia-Greene Media
COXSACKIE — Ever wanted to try your hand at crafting a creative masterpiece? This just might be your chance.
The Hoot of the Owl Committee in Coxsackie is looking for artists who want to put their personal touch on the streets of the community.
With 50 business sponsors already signed on and the owls on order, now the committee is looking for artists — whether those with experience or novices who want to give it a whirl — to design and decorate owl sculptures that will first be on exhibit in Coxsackie, and will later be auctioned off.
Artists will get up to a 25 percent cut of the sale price of their piece.
The project is the first of its kind in Coxsackie, but mirrors similar public art projects in neighboring communities like the cats of Catskill, the trains of Ravena and the bears of Cairo.
One owl has already been completed and is making the rounds in Coxsackie — "Freedom," created by professional artist Ellen DeLucia. DeLucia, who has crafted numerous cats for the Cat'n Around Catskill project over the years, created "Freedom" as a way of showing prospective artists what one of the owls could look like.
She is also working closely with the Hoot of the Owl Committee to get the inaugural project off the ground.
Artists are being sought to create owls, and you don't need to have any experience, just a desire to get creative and let your imagination run wild.
"You don't need any artistic experience to do this," DeLucia said. "If you have an idea you want to try, you have nothing to lose. It really is a lot of fun."
In fact, for many artists who have participated in the Catskill exhibit, it was their first foray into the artistic world.
"In Catskill's project, many people who are not trained in art in any way have participated. They had ideas, thought they should go for it, and have been very successful," DeLucia said. "Their cats have been very well liked and very popular."
In fact, some of the youngest prospective artists around even gave it a try — and made a success of it.
"In 2015, one cat was decorated by a Catskill pre-school, so these are kids younger than 5 years old, and they did a wonderful job," DeLucia pointed out. "Everyone just loved that cat. It went for quite a bit of money at the auction. If little kids and people with no training can do it, anyone with an idea and a desire to participate can do it."
Proceeds from the auction, which will take place later in 2017, will go to local nonprofit groups in the area, with the artist taking home a portion as well.
If you have an idea — or even if you're just mulling one — what about the technical aspects of it? How do you get started?
DeLucia has created an "artist's packet" with all the information you need to get going, including specific information about materials, technique and so on.
Want to give it a try? Artists from all over the region are encouraged to submit a sketch (or two) of their ideas. The deadline for the sketches is Dec. 31.
To get more information and an outline of the owl sketch that you would need to design, visit the Hoot of the Owl Committee's Facebook page or email Joe Ellis at This email address is being protected from spambots. You need JavaScript enabled to view it.. A website for the committee is also in the works, but is not yet up and running.
Once sketches have been submitted, in January a "selection reception" will be held for both artists and sponsors so the latter can select the owl design they would like to sponsor. If your sketch is chosen, then have at it — you will have a couple of months to complete your owl, and then the sky's the limit.
"Painting is easiest and the most straight forward, but there are other materials you can use," DeLucia explained. "Some people use mixed media — combinations of things. People can attach cloth or paper, and if they do something other than paint, they have to specify that. Ninety percent of the owls will be painted, but there are other options."
For instance, DeLucia has done several mosaics for her Catskill cats, a time consuming and expensive process.
Whatever you decide to do with your owl, you should try to get as detailed as possible in your sketch so the sponsors know what you have in mind.
"It's very helpful for everybody for the people to describe their design in the sketch," she said. "We only get to see the front of the owl in the sketch, so it's important that they describe what the rest of the design idea is."
While it's up to the artist to create the owl they envision, there is subject matter that is off-limits, such as topics that might be deemed offensive. The artist's packet, which is given to every artist who expresses interest in the project, details all the criteria, but other than that, artists will have a free hand.
"When people are designing, they need to keep in mind that this is a work of art that will represent them," DeLucia said. "They want it to be something that the public will enjoy looking at, and lastly, because they will be auctioned to support not-for-profit activities in the area, they want to keep in mind that this will likely end up in someone's home, and is this something people will want to bid on and own as a work of art?"
Artists will receive a portion of the auction price for their owl — up to 25 percent, if all their work is submitted on time. In the Catskill auction in previous years, cat designs were sold for a few hundred dollars all the way up to several thousand. Since the cat project was launched in 2007, at least 500 cats have been auctioned off.
Artists are also given a $50 stipend to cover the cost of materials they purchase, such as paint and other supplies.
The owls, which are made of fiberglass, are quite durable, and weigh roughly 45 pounds. They have already been primed, so all the artist needs to do to begin is paint a base coat and then begin their design, DeLucia said.
Want to give it a try, but don't know where to start? The first step should be to contact the committee on Facebook or at This email address is being protected from spambots. You need JavaScript enabled to view it. to get a sketch outline and artist's packet, which has all the technical details and resources you will need to get started. Sketches are due back to the committee by Dec. 31.
If your sketch is picked by a sponsor, it will be time to get started. You will have about two months to finish your owl, and local artists will be available to give you advice if you get stuck or have questions.
"We will have a list of people who have stepped forward and said they would be willing to give advice and help trouble shoot," DeLucia said.
Once owls have been completed, they will be sent out by the committee to an auto detailer to be sealed so they can withstand the elements, and will then be placed in locations throughout Coxsackie for the public to enjoy. In the fall, the auction will be held and the owls will be sold off.
"People will be surprised at how much they will be able to do all by themselves," DeLucia concluded. "People have a lot more abilities than they think they do. It's doable and it's a lot of fun, and it's exciting to see something you created be out there and appreciated by people."